Gold and Bronze Stevie Awards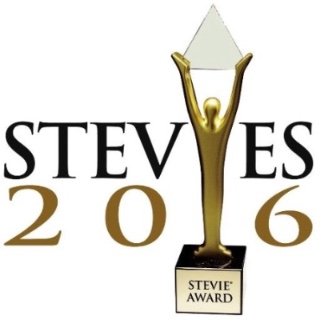 The 'Neocate® Footsteps' app, developed by Synappz Mobile Health for Nutricia Advanced Medical Nutrition Inc., was doubly awarded with a Gold and Bronze Stevie in the categories 'Education & Reference' and 'Integrated Mobile Experience'.
The 'Neocate Footsteps' app is an innovative medical app that helps parents manage the day-to-day challenges that come with caring for a child with allergies, such as cow's milk allergy. This app enables them to input their child's daily food intake and to easily determine related allergic reactions. Displaying the results in a clear and comprehensible manner facilitates interaction with healthcare providers. Lots of reliable information is provided through the app, which helps the parents to expand their knowledge on food allergies.
"This achievement is an extremely important milestone for our team" says Erik van der Zijden, CEO of Synappz Mobile Health. "They worked incredibly hard together with the Nutricia team in the US to bring about the best possible mobile experience for parents and carers. It's fantastic that their efforts are being rewarded and hopefully this recognition will result in more children being helped by the app."
In the words of Robert Schnurr, Regional Vice President Americas and General Manager of Nutricia North America: "We have heard for many years from parents how difficult life can be once their child has been diagnosed with a food allergy. It's really gratifying to be able to create and offer such a high-quality, user-friendly app. We hope the Neocate Footsteps app can help to provide support and inspiration at each milestone of their child's food allergy journey."
The Stevie® Award is considered to be the Oscar equivalent for business innovations in the USA. All US-based organizations, public as well as private, profit and non-profit, small and large, can submit nominations. Synappz Mobile Health was nominated together with Nutricia Advanced Medical Nutrition for the 'App Awards' category. The jury consisted of over 250 professionals from around the world.
Neocate Footsteps is currently available in the US App Store.
About Synappz Mobile Health:
Synappz Mobile Health develops and implements innovative mobile health solutions for patients, healthcare professionals and centers, pharmaceutical companies and patient organizations. Our mission is to create mobile health solutions that save lives and to make them accessible to everyone.
About Nutricia North America:
Nutricia North America, based in Rockville, Md., is part of Danone company. A leader in clinical nutrition, Nutricia North America provides medical foods and infant formulas for the treatment of allergic, gastrointestinal, metabolic, neurological and genetic disorders. The range of quality products includes Neocate, the first hypoallergenic amino acid-based formula for infants and children who suffer from dairy/soy protein allergy and gastrointestinal conditions such as eosinophilic esophagitis.