Clinicards. The end of medical apps as we know it.
Introducing the next innovation in Mobile Health. Think of it as your own medical app factory, churning out your own medical apps tailored to the needs of the patient. Safe and secure in use, providing unprecedented insights into patient's health status.
Each medical app is different. Because each patient is.
Patient Generated Data
The quality of the patient's medical story lies at core of a reliable diagnosis. It also presents enormous challenges. Any healthcare professional will confirm that patients find it difficult to tell their medical story in detail, or objectively. Medical apps could help out, but there's a catch.
Health is personal, so tracking a patient's health with mobile apps should be too. Then why is it so hard to find that one specific app that tracks exactly what you want to track, in an easily understandable way – no more, no less? And how do patients know what happens to their data once they've sent it to the cloud? Is it safe and secure, does it use the same security protocols as hospitals? And finally: tracking is nice, but what do all those numbers actually tell patients something about their health?
These days, it seems that the 'empowered patient' is all the healthcare community can talk about. The place to start empowering patients is by making their health understandable, by enabling them to tell their own medical story.
A staggering 90% of chronic patients would accept­a mobile app prescribed by their doctor. However, doctors are facing the same challenges. They would like to see more guidance and a more scientific approach to these apps. To be sure that the app they prescribe will actually make a difference in keeping or making their patients healthy.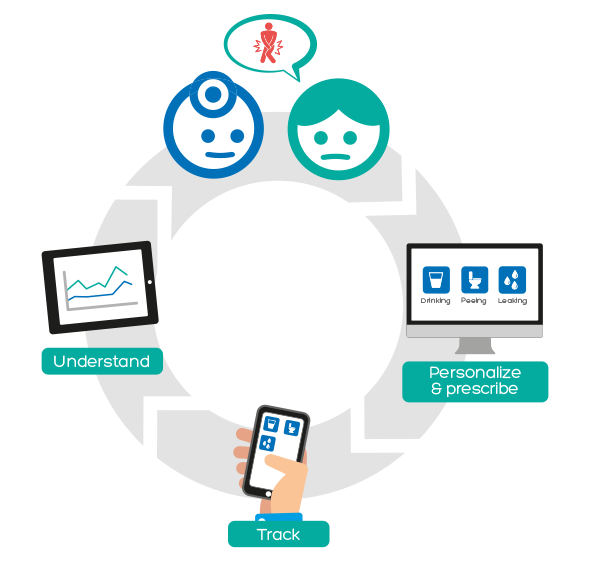 Clinicards consists of:
Web platform to create your own medical apps.
Mobile app to track medical data.
Profound back-end solution on par with the latest standards in patient privacy, data security and interoperability.
Connection to other platforms, wearables and sensors.
Portal for patients and HCPs to view results in an understandable way.
Quality mark and/or CE-certification where appropriate.
Implementation Team to make it actually work in a hospital.